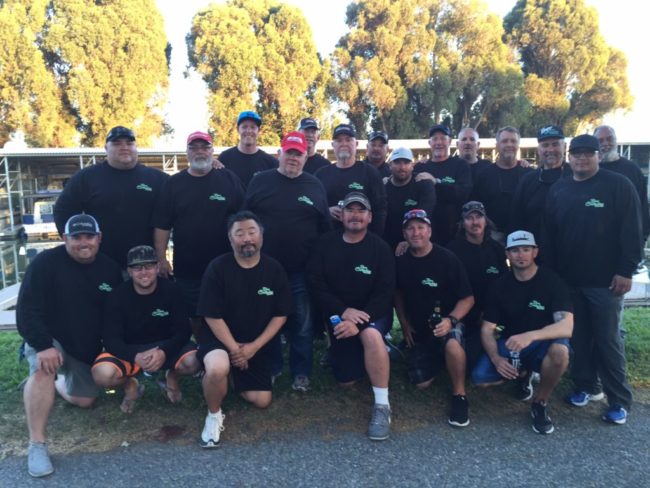 Water Temp: 58-63 & 65-69
Water Clarity: Stained 2-4′ and Dirty 0-1′
Report: I don't usually write reports because I am strictly a fun fisherman. I am not a circuit tournament angler so I don't have any notions that my views or experiences are worthy of the more skilled anglers. I do however do a little bit of research to try my best and lay out my trip which is the reason I am sharing this report. I am one of among many other guys in my group who compete against each other for bragging rights. We all share information so we can have better experiences on the water just like a group of family or friends, this years trip was no different. Ten boats with 23 anglers out of B&W Resort for the week looking for fun.
North Delta water up above Tower Park and around Walnut Grove looked stellar with clear water 4-6′ water temps 63-66 and perfect looking conditions. We managed a few decent fish here and there in some dead end sloughs like Sycamore, Hog, Beaver and in the main channel but never really put anything together that was consistent. Every day we managed to catch 'em but not the way we wanted to get on 'em decent. Fished Whites, upper and lower Franks, Mildred, Disco etc for basically the same so-so results all junk fishing. Best part was visiting Whimpy's and Rusty Porthole during the low-low one day and the Windmill Cove on few others. We spread out and fished hard all day every day and up until dark in all directions.
We finally found an area that wanted to bite solid. The water was dirty brown with water temps up to 68-70 degrees in the late afternoon unlike anywhere else we visited on the whole Delta system. It was well worth the wait because we ended up hosing them good. The main area was fourteen mile and disappointment with one certain unique stretch just on fire for three solid days for five or six boats before we had to leave putting out fish well in the upper size category. I feel like we missed it by only a week or so or perhaps one moon phase or maybe even only by a couple days? What we saw there was good!
We had a great time barbecuing dinner everyday on the levy sharing our daily experiences and telling a few lies. Like any goog trip it ended up coming to an end with more great memories made. Hope this report finds you all well and helps a little bit as it did for us.
Go get ya sum! Big Ed!