It was a very cold winter morning 37 degrees in Otay Mesa when twenty two Bass Contenders went mano to mano in the "Battle At the Border" down south in San Diego County. We were pleasantly greeted by a field of 40-50 boats as the San Diego Team Series circuit was also ready to go to battle with Lower Otay Reservoir. The little green SD County Lobina fish had plenty of room to spread out as the recent rain storms had brought the water level up to near capacity. Along with the rising water level came dark brown chocolate water that added dimension to everybody's game plans.
After an extremely cold morning and a lot of fun at the busy launch ramp everybody took off in different directions as the night gave way to a beautiful clear morning. I had the pleasure of fishing with long time friend and former CBC member Chris "The Goose" VanGeest. It was a blast catching up with Chris as we made the long 2.5 hour track down south to the border. The fishing is always fun but that's just a small part of the bass club experience to me. Its spending time with friends, getting to know different anglers and enjoying the amazing sunrises, and in this case the amazing sun sets in Southern California. The CBC would like to shout out to first time guest Carlos who fished in his very first bass tournament with Alfred Vasquez. Carlos did pretty darn well at the weigh-in with three fish weighing 3.45lbs. After it was all said and done the top spot for the day went to Big Ed Cazares with a total bag weight of 10.47lbs which included the Big Fish of the derby 2.95lbs. Rounding out second place was the Reverend Sergio Sanchez who tamed five Lobina's weighing in at 7.31lbs. Close behind with a five fish limit Kevin Duncan took the third spot with a bag weight of 7.22lbs. The Big Boat award separated by only ounces went to the team of Big Ed Cazares and 'The Goose' Chris VanGeest just beating out Sergio Sanchez and Conrad Apodaca Sr in a close match.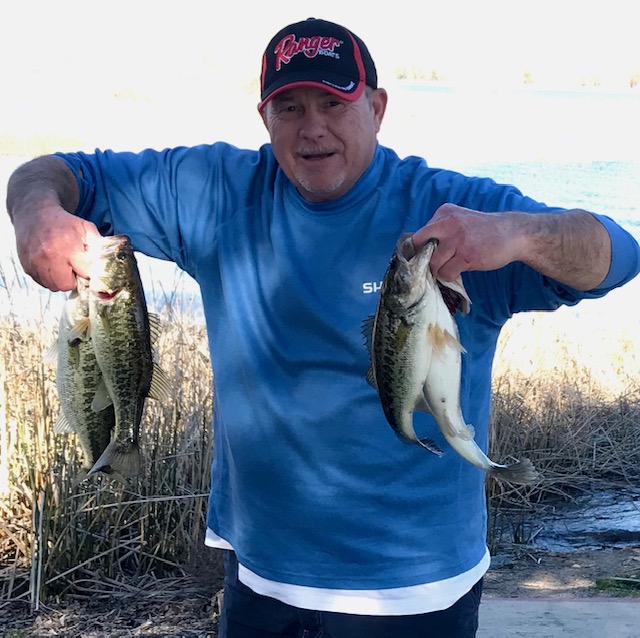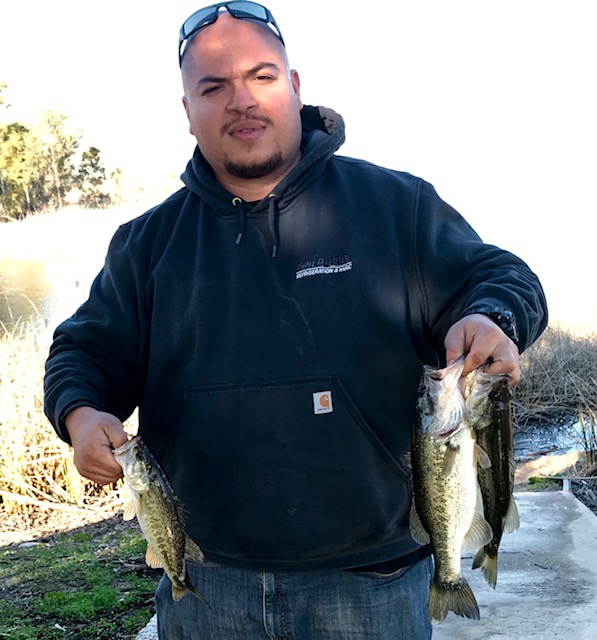 TACKLE BOX
1st place: senko shallow flipping, ds grn pmkn purple
2nd place: ds mm3 shallow and deep
3rd place: missile bait, ds blue crawler and mm3
Air temp: 37 launch/70 weigh-in clear skies
Water temp: 56 morning/61 end day
Water: Coves drk brown/Main lake 3-4′ visibility
Place/Name/Fish/Total
1) Big Ed Cazares  5/10.47  BF:2.95
2) Sergio Sanchez  5/7.31
3) Kevin Duncan  5/7.22
4) Johnny Abyad  5/6.69
5) Alex Arias  5/6.25
6) Robert Terrasaz  5/6.19
7) David Mendez  5/5.93
8) Conrad Apodaca Jr  5/5.90
9) Raul Valderraine  4/5.00
10) Conrad Apodaca Sr  4/4.78
11) Gil Bowman  3/4.23
12) Kenny Isago  3/3.54
13) Chris VanGeest  2/3.48 (guest)
14) Carlos Meza  3/3.45 (guest)
15) Derrick Yoshinaga  2/2.63
16) Mark Pavlinac  2/2.28
17) Alfred Vasquez  2/2.25
18) Andrew Garcia  1/1.92
19) Mark Chadaeyne  1/1.13
20) David King  1/0.87 (guest)
22) Gary Crouse  0/0.00
22) Steve Meza  0/0.00
Big Fish: Big Ed Cazares 2.96lbs
Big Boat: Big Ed Cazares/Chris VanGeest 13.96lbs
See you on the water: Big Ed!