San Vicente Lake Saturday February 24, 2018 was a cold 34 degree winter morning with enough wind to make it feel like 24 degrees below zero bone chilling and freezing cold. Fourteen anglers from up north traveled down to San Diego to go mano a mano with the stingy green black bass of San Vicente. As the night sky gave way to dusk the Bass Contenders made their way up the hill to launch and go under a beautiful clear sky with a strong breeze coming out of north. After a few fireworks and a near miss at the launch ramp all fourteen anglers headed out in different directions.
Does anybody remember when Cody Bellinger made his MLB debut with the Los Angeles Dodgers in April 2017 versus the NY Mets? Do you remember when Bo Jackson came in on Monday Night Football versus the Seahawks in his LA Raiders debut with Markus Allen behind him at tailback? How about Rudy Ruetigger's touchdown for Notre Dame in 1976 against all odds? Bellinger's first at bat was a drive to left center that cleared the wall and the bases and Bo Jackson ran 32 yards behind a block from tailback Markus Allen on his first carry that ended up in the end zone. Both players debut made history preceded by a career no less impressive.
With an amazing debut of his own and in his first official Bass Contender tournament as a member, rookie sensation and brand new first time member Abe "Shimano" Contreras found himself atop the leaderboard in the San Vicente showdown. In the same season that began last April 2017 with another rookie win for his first time ever tournament new member Nelson Barrios did the same at DVL in his first official at bat. It was an absolute pleasure to fish with Abe on my boat. He politely conducted himself with respect the entire morning asking questions with humility. Abe was so polite and considerate he wouldn't even step on the center fold down seat step or even think of making a cast that was anywhere near my line in the water. What a fine young gentleman and a lot of fun to fish with. His netting skills were amazing, but at 11:30 with nothing in the box after I had already culled half a dozen times Abe finally took my offer for third time to take the front and stay up until he had five alive. It took Abe about an hour and a half when I was content to take back my trolling motor as he put on a "How to catch your limit" clinic in short fashion. Abraham went from quiet and humbled to aggressive and even a lil 'shit talkin' to make it fun. Abe was so happy with every landed fish we hugged as every lobina landed in the net, and then another and another. You could hear us from across the pond yelling and laughing. It really was a fantastic day spent with a good person and an excellent fisherman. After our limits were secured we even had a couple of double hookups at the same time as we were busting up laughing and throwing fish back one after another. It all lined up on this day for Abe as it did for Bellinger and Jackson as he earned first place, big fish and big boat. Abe was quoted as saying to myself, Gabby and Conrad in the parking lot, "This is the greatest day of my life". WTG Abraham we are all proud of you and glad we could share this experience with you… make sure next time you leave a few for your boater lol!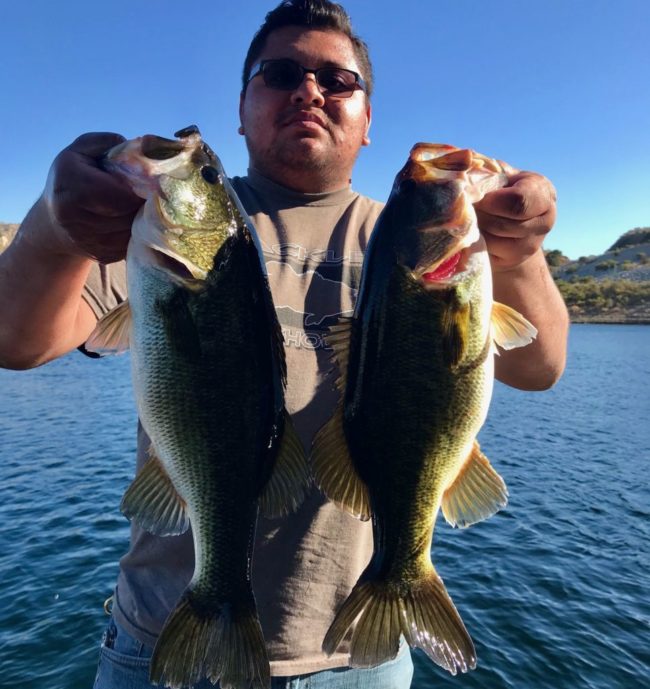 No less impressive on this cold stingy day Derrick Yoshinaga brought 11.0lbs to the dockside weigh-in which earned Derrick a second place win. Rounding out the money board was Big Ed Cazares whose 10.55lb off pescado that landed him a third place finish to go along with the big boat of the event with 23.15lbs. With one tournament remaining in the season it looks like the 2018 AOY race is also nearly wrapped up for Big Ed Cazares who has had a great time fishing with an amazing group of anglers.
Bass Contenders want to also give a shout out to another fine young man and guest of Nelson Barrios fishing in his second event with the club, angler Josh Arredondo whose two fish bag was sixth largest amongst the weigh-in. We hope you had a good time and come back out soon Josh. All in all it was a fun time and great event. Missing in action were five CBC teams fishing up north at Lake Perris in the Angler's Marine Appreciation event hosted by Rick Grover where the team of Adam Day and Danny Caldwell represented well with a second place in the Rookie, third place in the Masters as well as big fish for the derby. Nice job Adam and Danny!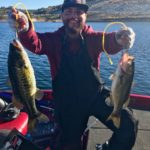 THE TACKLE BOX:
1st place: Green pumkin Senko, Ika and D/S 10′-15′
2nd place: Found bed fish shallow, D/S 25′-40′
3rd place: Green pumkin Senko, Ika and D/S 10′-15′
Air temp: 34 degrees launch 76 degrees weigh-in
Water temp: 56.5 launch 58 degrees weigh-in
Weather: launch 8-10 mph, 11:00-1:00 calm, 10-12 mph weigh-in
Water clarity: super clear 20-25 visibility
Place/Name/Fish/Total
1) Abran Contreras 5/12.65 BF3.40
2) Derrick Yoshinaga 5/11.0
3) Big Ed Cazares 5/10.50
4) Alex Arias 5/6.55 DF 6.30
5) Alfred Vasquez 4/6.15
6) Kenny Isago 2/4.35
G) Josh Arredondo 2/4.25
7) Nelson Barrios 2/3.55
8) Gary Crouse 1/3.35
9) David Pisarski 1/1.60
10) Johnny Abyad 1/1.65
14) Gabby Hayes 0/0.00
14) Conrad Apodaca Sr 0/0.00
14) Mark Quaternik 0/0.00
March 24/25, 2018 Lake Havasu two day event will launch out of Havasu Landing Resort and Casino marina. It is important to make your camping or room reservations ASAP as this is Spring Break and the Wild Wild West tournament launching out of Windsor Launch on the same weekend. The forecast is looking excellent for timing and the spawn should be a killer event. NOTE: This is a team tournament all participants will be drawn at the March club meeting.
See you on the water: Big Ed!