GOOD TIMES AND GOOD FISHING AT LAKE SKINNER!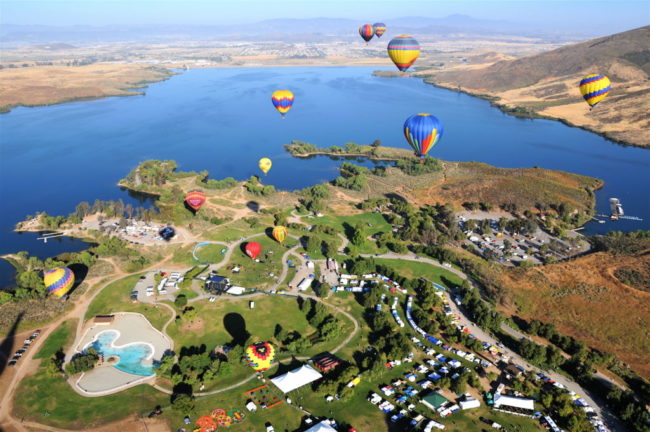 Winchester, CA was the location of the July 22nd Basscontender showdown at Lake Skinner. The hot weather and recent hot pre-fishing tempted twenty two Basscontenders into giving their best shot at taming the warm water Lobina's into the livewell of eleven bass boats. On this day landing a two fish 15" minimum limit of Lobina would prove to be challenging for most of the field with the exception of only a few. My boat partner Conrad Apodaca Sr and I had no problem hooking and landing 14" fish but the illusive 15" Lobina were the stingy ones on this hot Saturday morning in Winchester California.
Thank you to all of the Basscontenders for their stellar effort in making the drive up weigh-in a success. We were able to keep all of the fish healthy and minimized the stress by only handling them once at the drive up weigh-in. Congratulations to AOY Paul Herber for figuring out the puzzle. Paul managed to land two beauties for a combined weight of 10.49lbs with his 5.71lb Big Fish award kicker. Paul's netman Smokin Joe Nava also landed a respectable 2.12lb green back which landed them the team win and Big Boat award honor with a combined weight of 12.61lbs for three fish. Second place honors fell to Adam "The Destroyer" Day who had a double fish day with 6.52lbs which included his kicker fish of 4.63lbs. Rounding out the money board was angler Conrad Apodaca Jr who was the last of only three anglers to bag a double fish limit with 5.93lbs of Winchester Lobina Largemouth.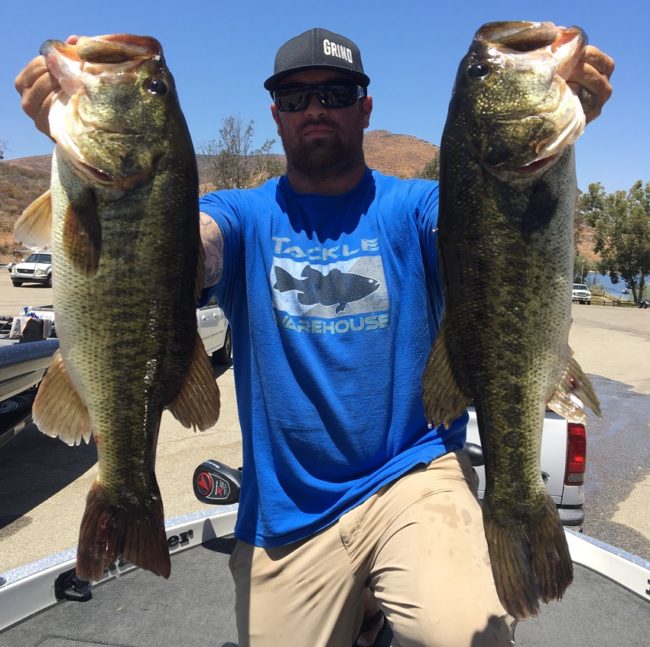 A big Basscontender shoutout goes to the new dudes making their second consecutive meeting and second consecutive tournament and all around cool guys co-anglers Johnny Abyad and Chad Crews. Both Johnny and Chad mixed it up at the after derby festivities and barbecue put on by Mark bowman and his cute assistants Gabby Hayes and Adam Day. The team of Johnny Abyad and Conrad Jr were second Big Boat in the Skinner derby and Chad Crews fished with Adam 'The Destroyer' Day on his new Triton where Chad displayed his second place netting capabilities. Also filling in the empty back seat was guest Michael Ruiz who fished with Nelson Barrios as Michael was instrumental in catching Nelsons hot tamale fish that was flopping all over the parking lot after jumping out of the boat at the weigh-in. Below the cool dudes from left to right Johnny Abyad and Chad Crews.
The fishing at Skinner in recent weeks was stellar to say the least. Three weeks earlier it was wide open with nothing but big fish everywhere as many CBC pre-fish anglers reported excellent fishing on a variety of techniques and patterns, everything and the kitchen sink was working. Two weeks earlier the bite definitely changed and switched from the former patterns to newer different patterns but it was considerably tougher than the week prior with a decent bite still to be had… which led up to last week. After pre-fish funfishing for the third time in as many weeks the writing was on the wall. It was even more difficult for the third consecutive time which made us all realize derby day was gonna be tough. Below are some photos from those who reported a pre-fish Skinner report. Click on any photo for a larger view of these pictures and any other photos on the website whether in this article or any other.
EDITORS NOTE: The 2017 Basscontender season is full gear and full speed ahead and so are the good times. April DVL 28 anglers, May Silverwood 24 anglers, June El Cap 18 anglers and July Skinner 22 anglers great turn outs and a lot of fun times we are definitely on a good roll! The July annual banquet was extremely well attended with almost every member and guest making their appearance at Michael Angello's for the club dinner, big raffle and awards ceremony. The camaraderie at these recent events have been second to none with great times to be had at club meetings and early in line pre derby and after derby gatherings as well. Thanks to Mark Bowman, Gabby Hayes and Adam day for the after barbecue at the Skinner event, it was just a good 'ol time kicking back in the shade and talking about the days fishing with plenty of smack talking with various lies mixed in to make sound it better. The group is getting along better than ever, almost everybody is sharing information on bass catching techniques which formerly has been at an alltime low. Plain and simple it has just been a fun time to hang out with a great group of anglers like friends are supposed to do. That was one of the topics everybody agreed on at the barbecue as our president Gabby Hayes said that's what the bass club is all about. Next month Silverwood night should be no different with more good times for sure!
THANK YOU: We would like to send a huge thanks and our warmest gratitude to Katie Chadeayne for the amazing cup cakes we had at the July awards banquet. Please join us in thanking the awesome wife of the big cupcake himself Mark Chadeayne who probably ate most of them on the way over to the banquet. As you can see these special addition California Bass Contenders cup cakes that tasted as good as they looked! Thank you Katie for letting the big guy out of the house and for these wonderful treats!
THE TACKLE BOX:
1st Place: Flipping tullies and Buzz bait.
2nd Place: The 'Ol drop shot color unknown and top water.
3rd Place: Ika up on the bank moving to rushing water near inlet.
Air temp: 64 at launch 98 at weigh-in barbecue 1:00pm
Wind: Flat calm grease until 10:30 slight breeze 5-7mph afternoon
Water: 76-79 degrees, 80 in the backs, slightly green 3'-5' visibility
Place/Name/Fish/Total
1) Paul Herber 2/10.49 BF5.71
2) Adam Day 2/6.52
3) Conrad Apodaca Jr 2/5.93
4) David Mendez 1/3.86 (Tie)
4) Mark Pavlinac 1/3.86 (Tie)
6) Gil Bowman 1/3.76
7) Conrad Apodaca Sr 1/3.54
8) Mark Bowman 1/3.53
9) Big Ed Cazares 1/2.98
10) Richard Hoffman 1/2.63
11) Manny Guillen 1/2.39
12) Johnny Abyad 1/2.20
13) Joe Nava 1/2.12
14) Nelson Barrios 1/2.01
15) Ted Romero 1/1.63
16) Derrick Yoshinaga 0/0.00
16) Gabby Hayes 0/0.00
16) Alfred Vasquez 0/0.00
16) Chad Crews 0/0.00
16) Michael Ruiz 0/0.00
Big Fish: Paul Herber 5.71lbs
Big Boat: Paul Herber/Joe Nava 12.61lbs
NOTE: Mark Pavlinac and David Mendez both tied for fourth place. At the tournament we said they will both split 4th and 5th place points for a total of 13 points each for placing. The points software program will not allow me to split points so both anglers will get fourth place points at 14 points each. There will not be a fifth place points award it will move directly to sixth place. FYI they will both also split fourth place money evenly amongst the both of them!
Basscontenders would like to wish Richard Hoffman good luck on his neck surgery in the next week to come. Hurry up and get back to fishing Richard you have some pretty new Shimano reels to use. Also a shout out to Big Dave Pisarski on his recent knee rehab we miss you man and Mark Quaternik who had a lil internal tune up at the doctor. Hope u guys feel better soon!
See you on the water: Big Ed!