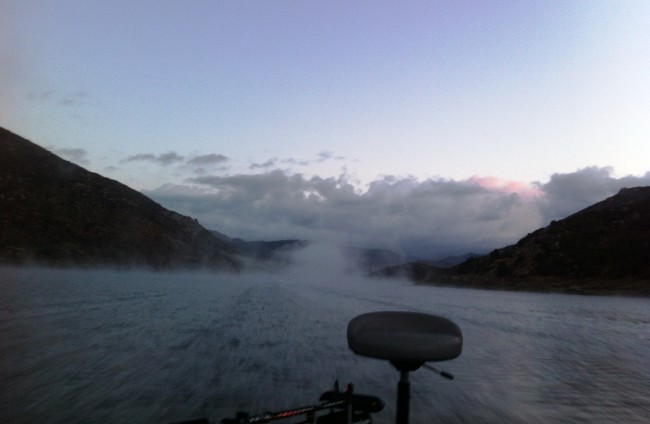 Ten Basscontender members and two new prospective members merged in San Diego and gave it everything they had traveling almost three hours south to El Capitan reservoir in Lakeside, Ca. The rain cleared overnight on the drive down and gave way to cold and cloudy conditions as the front moved through leaving unwilling fish who wanted nothing to do with the offerings from the boys up north.
All twelve anglers met at the bouey line as we blasted off at 6:00am in cloudy skies with smoke on the water. A special shout out and congratulations for a great finish to the new prospective members Adam Day and Eddie Obrien who would have claimed 1st place and 3rd place respectively. These guys are on fire in only their second tournament ever and both with with Basscontenders in consecutive events. Adam and Eddie will be a force to reckoned with as the Basscontender season continues towards the finish line at the March event.
I asked Adam how it felt to win his first ever bass tournament in only his second tournament fishing for bass, " It felt incredible, it felt so good words cant't describe. Even though I didnt win the money to see myself on top of the leader board and on the front page of the website is payment enough for me"! I am sure Adam wont have to wait long before he experiences the feeling once again.
 Congratulations to Mike Rupp for winning the days event and to Derrick for coming in 2nd place. Lets hear from the guys down below in the "Blog" are called "Speak your mind". Just sign in and create a username and password and post a reply. Remember we can go back in months and years to read the "How did you do it" reports as long as we hear from you. If you have any questions on how to log in just give Big Ed a call he will walk you through it. There is also a link on the right side panel of the website that says "Members Log In Here".
The tale of the tape:
 
 
 
 
 
 
 
 
Water Temp
66º

-67

º

 
 
 
 
 
Air Temp
45º

-74

º

 
 
 
 
 
Water Clearity
2′-3′ stained green
 
 
 
Conditions
Flat calm at launch until 11:00; wind 12-20mph from every direction white caps.
 
 
 
 
 
 
 
Place
  Name
No Fish
Weight
Big Fish
Big Boat
 
 
 
 
 
 
 
 
Guest
Adam Day
3
7.89
3.25
11.15
 
Guest
Eddie Obrien
2
4.80
2.80
 
 
 
 
 
 
 
 
 
1
Mike Rupp
2
6.19
3.62
 
 
2
Derrick Yoshi
2
3.26
 
11.15
 
3
Paul Herber
1
3.01
 
 
 
4
Big Ed Cazares
1
2.74
 
 
 
5
Mark Bowman
1
2.64
 
 
 
6
Dan Pops Colgan
1
2.19
 
 
 
7
Alfred Vasquez
1
2.14
 
 
 
10
Bill Layne
0
 0
 
 
 
10
Greg Springman
0
 0
 
 
 
10
John Savko
0
 0
 
 
 
10
Ron Jeremy
0
 0
 
 
 
 
 
 
 
 
 
 
See you at the December meeting!