The California Bass Contenders 2017-2018 regular season ended in Lake Havasu on March 24 & 25, 2018. It was the final stop on the eleven tournament tour that would bring crusty old veteran club brothers and new club rookie club brothers together for a showdown at Lake Havasu and she did not disappoint. Most of the group met up for pre-fish on Thursday and Friday before the derby finding biting fish both in both green and black colors. One obstacle that presented itself to the group was the huge presence of the Wild Wild West Pro/Am that launched out of Windsor. These guys absolutely pounded the fish and were by far the rudest group of anglers I have personally ever had to share water with… but enough about that. The fishing and the fellowship was amazing!
The group from the Arizona side stayed with long time Basscontender Ron Janke at his new Havasu home. The group from the California side split camping and a house rental only a few hundred yards away from the Casino. The house rental accommodated eight anglers and four boats with plenty of room to spare. Great times were had by all as we met up for barbecue dinners and great times which is what it is all about, just having fun with your friends. I suppose that is why tournament circuits like Wild West not to mention many others and club fisherman are so different. If I had the choice, which I do, I choose club camaraderie and friendship, sprinkle in a lil bit of trash talking and fun competition and you have the California Bass Contenders club. It was a blast hanging out with these guys.
The California Bass Contenders would like to welcome in his first ever event prospective new boater Sergio Sanchez who fished with Derrick Yoshinaga on team Champion. Also joining us in his second CBC event was prospective non-boater Robert Terrazas who fished with Mark Pavlinac on team Nitro. Sergio and Robert both are not only both very good people, they are also both exceptional fisherman who surprised us on day one as they finished third and fourth place respectably on the leaderboard. It was awesome getting to know them in this two day team tournament format. Almost as impressive as his top three finish on day one was Sergio's marinated garlic Tri-tip that he cooked for the entire crew on Friday night to go along with Robert's burgers and hot links. Thank you for the good grub Sergio and Robert and welcome to the CBC you both know the secret to our hearts!
Day one on Saturday found us ready and prepared as we all met up at the buoy line outside of Havasu Landing Resort in the dark at 6:00AM. We would blast off in order of the draw Saturday and reverse order on Sunday. Congrats to Alfred Vasquez for the day one Big Fish award 4lb-13oz caught on a jerk bait. Derrick Yoshinaga with an honorable mention just an ounce behind Alfred for Big Fish with a 4lb-12oz slug. It was an amazing first day on the water even though we all missed two non-boaters who became ill and could not compete leaving two teams fishing solo. We wish Mike Rupp and Chad Crews speedy recoveries as they were troopers and made a solid showing. Day one results:
Place/Name/Fish/Weight/BF
1) Alfred Vasquez/Johnny Abyad 5/17lbs-3oz/BF 4lb-13oz
2) David Mendez/Abe Contreras 5/16lb-11oz
3) Derrick Yoshinaga/Sergio Sanchez 5/13lb-14oz
4) Alex Pisarski/Branden Hoffman 5/13lb-1oz
5) Mark Pavlinac/Robert Terrazas 5/11lb-3oz
6) Ron Janke/Gary Boyd 5/10lb-1oz
7) Ted Romero/John Junkyard Savko 3/8lb-8oz
8) Big Ed Cazares 4/8lb-10oz
9) Nelson Barrios 0/0.00
Day two Sunday was a much better weather day and very nice that the Wild West Tournament only had the top ten anglers competing so we had the lake and all the empty beds to ourselves. Congrats to Branden Hoffman on his behemoth 7lb-5oz Havasu monster caught on a Blue Gill swimbait. It was the final day of fishing for the tournament with a 1:00PM weigh-in and the final day of fishing for the 2017-2018 Bass Contender season. Day two total combined final results:
Place/Name/Fish1/Fish2/Weight1/Weight2/Total/BF
1) David Mendez/Abe Contreras 5/5/16.11/15.6/31.71
2) Alfred Vasquez/Johnny Abyad 5/5/17.3/11.8/29.1
3) Alex Pisarski/Branden Hoffman 5/5/13.1/15.12/28.22/BF7.5
4) Mark Pavlinac/Robert Terrasaz 5/5/113.3/13.6/24.9
5) Big Ed Cazares/Chad Crews 4/5/8.10/14.15/22.55
6) Ron Janke/Gary Boyd 5/5/10.1/10.8/20.9
7) Derrick Yoshinaga/Sergio Sanchez 5/2/13.14/4.13/17.27
8) Ted Romero/John Junkyard Savko 3/2/8.8/4.1/12.9
9) Nelson Barrios 0/1/0.00/3.9/3.9
CLICK ON ANY IMAGE BELOW FOR FULL SIZE PHOTO: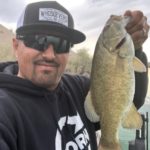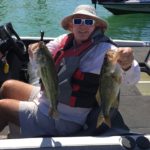 ?NOT SURE WHAT OR WHERE HAPPEN TO TED'S HAND IN THE PHOTO ABOVE?
Congratulations to the winning team of 'Big Fish" David Mendez and Abe "Shimano"Contreras for putting together two back to back solid bags of fish on Saturday and Sunday. They both practiced hard and fished hard and their combined bag of 31.71lbs was proof of the pudding. That makes two back to back wins in his first two events for Abe Shimano. Second place winners Alfred "The Assassin" Vasquez and his team partner Johnny Abyad came close with 29.1lbs but finished solid on both days as did the third place team of Mark Pavlinac and Robert Terrazas. It all goes back to zero point on the 2018-2019 season as we enter the new season on April 28th as we travel to Castaic Lake for the first event and dual Top Ten tournament fish off.
Congratulations to 2017-2018 California Bass Contenders Angler of the Year Big Ed Cazares. 2017-2018 Top Ten Leaderboard has a tie for fourth place and tenth place so the top eleven anglers will face of on April 28th at Castaic Lake for the fish-off.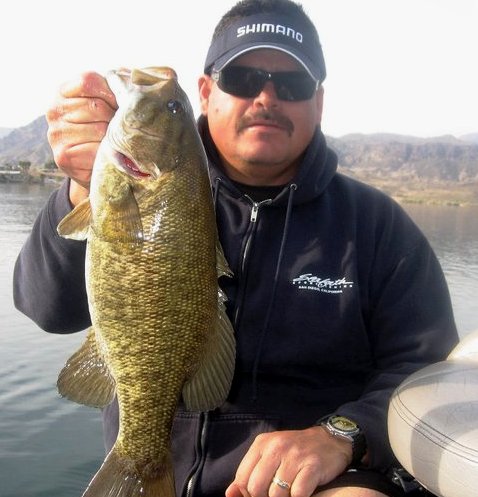 Final point standings for the 2017-2018 season:
1) Big Ed Cazares 474 pts
2) Alfred Vasquez 415 pts
4) Mark Pavlinac 385 pts
4) David Mendez 385 pts
5) Derrick Yoshinaga 365 pts
6) Conrad Apodaca Sr 334 pts
7) Conrad Apodaca Jr 313 pts
8) Nelson Barrios 299 pts
9) Johnny Abyad 298 pts
11) Gary Crouse 282 pts
11) Kenny Isago 282 pts
Please as always fill in the box below and leave a comment or remark. Your email address will not show once you submit your comment. Tell us how your tournament season was? We want to hear from you!
See you on the water: Big Ed!