Congratulations to the winning team of Alfred Vasquez and Brian Reaves at the "2017 Battle at the Border". For the past six years in February the California Bass Contenders have traveled down south near the border of Mexico to visit a place that has been, except for this year, a wide open sight fish tournament. With all of the heavy rain fall this year and colder than normal temperatures it seems like we arrived just a couple of weeks early before the girls get out to the big dance and winter formal at Lower Otay reservoir in Chula Vista, CA. Regardless of the weather and conditions that didn't stop twenty six eager Bass Contenders from attending this year's gala event each of whom were best dressed with their handsome date by their side.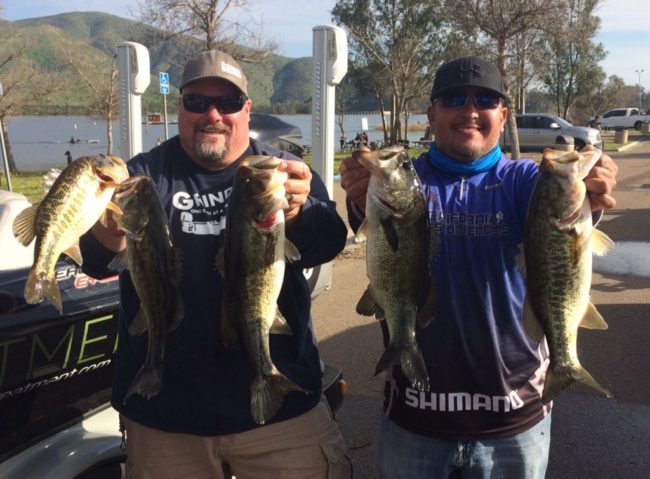 The easy show stopper and cutest couple at this year's winter formal who were unanimous in winning the "Favorite Team" award was the dynamic duo of Mark Pavlinac and Bill Layne. Special thanks to Mark Pavlinac who showed amazing support and sportsmanship making the day count for Bill Layne. Mark is also our newly nominated CBC Secretary and BigBass Bill Layne is a longtime member and former CBC President over multiple seasons. Together they both made a great showing at one of Bill's favorite lakes where he has won numerous tournaments in the past. Great to see both of you Battle it out at the border.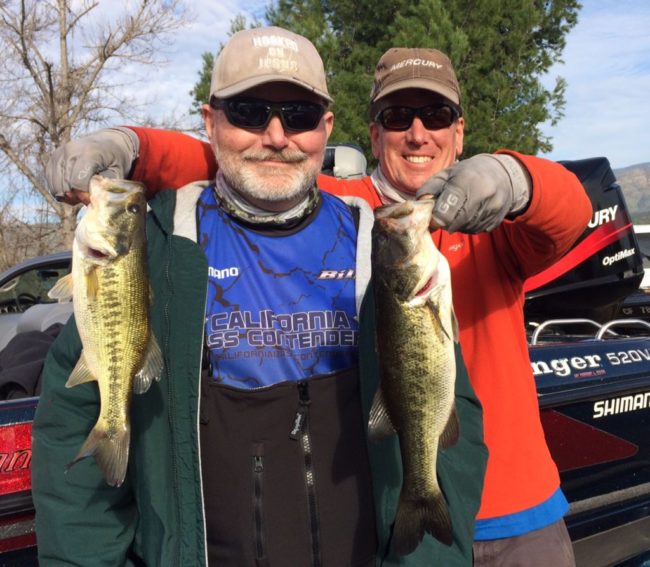 Basscontenders want to also welcome prospective members and guest anglers Mike Jackson who fished for the first time in a CBC event with Tim Irwin, Nelson Barrios who fished with Mark Bowman and David Mendez who fished with Richard Hoffman. David was instrumental in helping the club at this event as we were nonboater heavy at the club meeting. David volunteered to even out the teams by becoming a boater and was treated by the good carma police with a nice fat seven pound chunk and winning the Big Bass award. Rounding out the top three with a second place finish Conrad Apodaca Jr and Tom Creasy and third place to Paul Herber and Branden Hoffman. Lil CBC shout out to Dr Randy Estrada MD who fished his first derby breaking in his brand new Ranger Z521C and matching Cadillac Escalade SUV.. what a sweet ride to the winter formal! You can click on any image above or below large or small for larger image viewing.
TACKLE BOX: Almost all of the fish including the top three teams caught fish drop shot and Texas green pumpkin red purple flake. The winning team even said that this is the new San Diego color. That's what we do we share 'how we caught em'!
The morning was very cold and wet from the dew point. As the sun slowly came up the lake was flat calm and conditions were gorgeous as three other bass clubs and the general public battled for launching position in the dark. The format for this event was "Team Tournament" not the regular draw format where the boater competes against the nonboater. The overwhelming opinion by multiple anglers was extremely positive as all thirteen teams worked together for one combined limit of bass. It's the proverbial "elephant in the room" right now as we move forward into the sight fishing time of the year where often times the back seater is no more than a spectator to sit back and watch the show while the boater rapes the nest from the front and the back seater is hung out to dry making only blind casts in hopes of a lucky ending. I know their a few mixed emotions on this topic but it is a topic that will come up for open discussion at the next regular meeting and I'm sure more to come.
Read 'em and weep boys:
Air temp: 42-69 degrees very cold morning
Wind: Flat calm at launch breezy 8-13 mph afternoon
Water temp: 57-60 degrees 61 degrees at weigh-in
Water: 1-2 foot visibility green algae pulp everywhere
Place/Name/Total/Big Fish
1)  Alfred"Assassin"Vasquez & Brian Reaves  5/12.65
2)  Conrad Apodaca Jr & Tom Creasy  5/12.22
3)  Paul Herber & Branden Hoffman  5/10.51
4)  Adam"Destroyer" Day & Shaun Maki  5/9.46
5)  Randy Estrada & Mark Quaternik  5/9.32
6)  David Mendez & Richard Hoffman  2/9.03/7.00
7)  Gil Bowman & Conrad Apodaca Sr  5/8.83
8)  Mark Bowman & Nelson Barrios  5/8.32
9)  David Pisarski & Alex Pisarski  4/7.92
10) Derrick Yoshinaga & Joe Won  5/6.71
11) Tim Irwin & Mike Jackson  2/4.74
12) Mark Pavlinac & Bill Layne  2/4.00
13) Big Ed Cazares & Manny Guillen  1/2.03
EDITORS NOTE: For my two cents… I think it is a great idea to continue the team format where two anglers work together and share techniques and baits and even casts at the same target. Maybe we can try it for a whole season because some have said it is not fair the way points are handed out. I don't think it matters as the same amount of total overall points are handed out at both formats. Afterall this club was formed with camaraderie being first, fishing with your friends sharing friendly bass catching techniques. It's not the Bassmaster Elite Series it's just a fun time on the water. In hinds site quite a few anglers would have only brought one or several anglers with no fish to the scales if not for the team format at this event!
SO CAL UPDATE: Fasten your seat belts anglers… this is going to get very interesting.
Samples of water taken from a pipeline that connects two Southern California reservoirs have tested positive for an invasive species of mussel. The California Department of Water Resources says that preliminary testing this month showed tiny larvae were floating in the Santa Ana pipeline, though subsequent searches did not turn up any mature mussels. Confirmatory testing will determine whether the larvae are quagga or zebra mussels. Once established, both species can wreak havoc on water delivery systems, as they cluster in pipes and block the flow of water.
See you all at the next meeting or on the water: Big Ed Cazares!